Speed Monitor with 3 Output Relays and Analog Output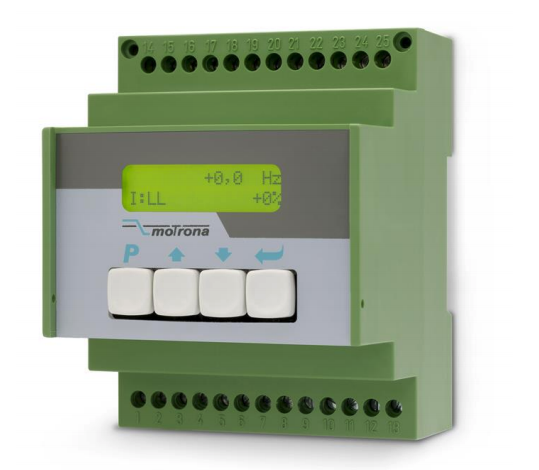 Motrona Safety Controller
Speed Monitor with 3 Output Relays and Analog Output
The monitoring device DZ260 is a programmable speed monitor with fast response and a multitude of functions for monitoring overspeed, underspeed (with start-up bridging), standstill as well as direction of rotation. The signals can be processed by conventional rotary encoders, encoders or measuring systems with HTL output levels or TTL / RS422 formats, up to 1 MHz.
The device has 4 front-panel buttons for programming as well as a two-line backlighted LCD display. Alternatively, the device can also be parameterized with a PC and the motrona operator software - via the intergated serial RS232 interface.
Quick and easy fastening without further accessories by snap-on housing for top hat rail.
The DZ260 is equipped with 3 potential-free changeover output relays and an additional 14 bit analog output, which can be used for control and regulation purposes.
- Pulse input with format A, B, 90° [HTL] or A, /A, B, /B [RS422], also possible for single channel
- Input frequency up to 1 MHz
- 3 output relays
- 14 Bit analog output for ±10 V or 0/4 ... 20 mA
- Power supply 17 ... 30 VDC
- Auxiliary voltage output +5 V for the supply of TTL encoders
- Snap-on housing for top hat rail (according to EN 60715)
- LCD display, backlighted
- Setup via keys or via PC by serial RS232 interface
Can't find what you need?
Call ADM on 1300 236 467
A member of our expert team will gladly help you find the right solution for your project or application.