Pulse Distributor for Incremental Encoder with complete Electrical Isolation, 8-channel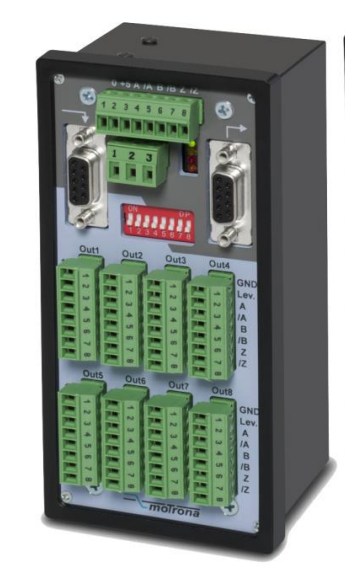 Motrona Signal Converter
Signal distributor of the upper class with full electrical isolation of all channels and the power supply. Short-circuit-proof auxiliary voltage for the encoder supply and an extended temperature range from -20 ° C ... 60 ° C.
- 1 pulse input with format A, B, Z [HTL] or
- A, /A, B, /B, Z, /Z [RS422]
- Input frequency from 200 kHz [HTL] to 500 kHz [RS422 / TTL]
- 8 push-pull outputs, formats corresponds to the input signals, but with individual assignment for each input
Can't find what you need?
Call ADM on 1300 236 467
A member of our expert team will gladly help you find the right solution for your project or application.