In Stock - Motrona AX350 Process Indicator
The Motrona AX350 is a versatile process indicator with dual analog inputs.
It supports both voltage and analogue inputs:  
-10 to +10 V (Ri ≈ 50 kΩ) 
 0 to 20 mA / 4 to 20 mA (Ri ≈ 100 Ω)  
It offers a 16-bit resolution with an accuracy of ± 0.1 %.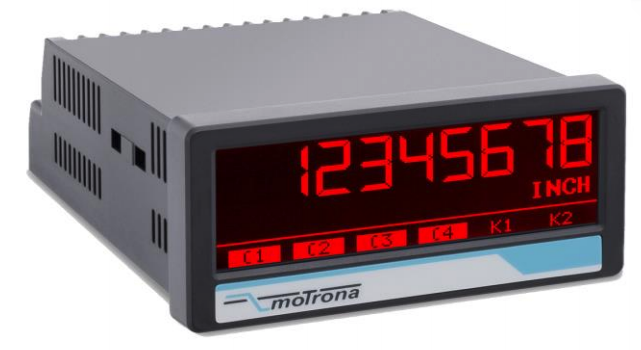 This display is often used with analogue encoders, but can also be used with pressure transducers, linear displacement sensors, or even for weighing applications. 
This panel meter features an LCD touch screen with multiple colour LED back lights. 
Plain text, symbols, and measurement units can be displayed in a variable way.  
The LED-backlight display enables graphics to be shown in red, green, and yellow. Due to the intuitive parameterization these colour variations can be event-dependent, such as in the case of limit values being reached or exceeded. 
Intelligent Features 
Aside from simple setpoint and on/off control, the AX350 has enough intelligence to calculate the sum or difference between the 2 of the analogue inputs, and display or apply functions with the result.  
Several other mathematical functions allow you to set up the totalisation (e.g., calculating volume from a flow meter), and linearisation (e.g., calculating liquid volume from a pressure sensor at the bottom of a irregular shaped tank.) 
There are a large variety of standard measuring units that can be scaled for and displayed on the LCD panel; including:  mV, A, mA, km/h, mph, feet/min, inch/min, g, kg, oz, W, kW, VA, mm, cm, m, inch, feet, C, F, K, 1/sec, 1/min, 1/h, gal/min, Pa, kPa, %.  
There units of measurement can also be customised if your preference is not on this list. 
For further functionality CA is migrating the stocked version to the variant that includes a relay output. 
Please do not hesitate to contact PCA Encoders for further information.  
IS THIS INFORMATION USEFUL?
If so, why not share it with your peers and colleagues. Simply click on the blue LinkedIn share icon below.