Safety Speed Monitor for Incremental Encoders / Sensors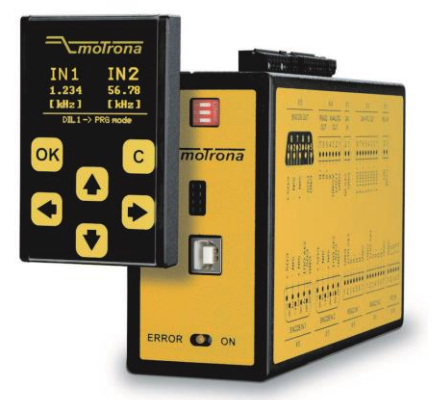 Motrona Safety Controller
Safety Speed Monitor for Incremental Encoders / Sensors
The DS260 can achieve up to SIL3/PLe when combined with a SIL3/PLe certified sensor. The speed monitor is equipped with one incremental input (HTL differential, HTL single ended, RS422), a signal distributor and has cable break monitoring.
- SIL3 and PLe certification (depends ofn the used encoder / sensor arrangement)
- Safety functions equivalent to EN 61800-5-2 (SS1, SS2, SOS, SLS, SDl, SSM, SLI, SBC, STO, SMS)
- 1 incremental encoder input with format A, /A, B, /B, Z, /Z
- [HTL differencial, HTL single ended, RS422]
- 8 control inputs [HTL / PNP]
- Input frequency up to 500 kHz
- 2 relay outputs 5... 250 VAC / VDC (NO)
- 4 x 2 control outputs with push-pull characteristic, short-circuit-proof,
- Safety related 14 bit analog output for 4 ... 20 mA (scalable)
- Signal splitter
- Power supply 18 ... 30 V
- Sensor Signal, wire break monitoring
Add-on Option: BG200: Plug-in Display Unit
Alternative: DS250: Same performance but up to SIL3/PLe with two independent, non-certified sensors and two incremental encoder Inputs.
Can't find what you need?
Call ADM on 1300 236 467
A member of our expert team will gladly help you find the right solution for your project or application.