SSI signal to Ananlog 4-20mA (plus serial); Replaces IV251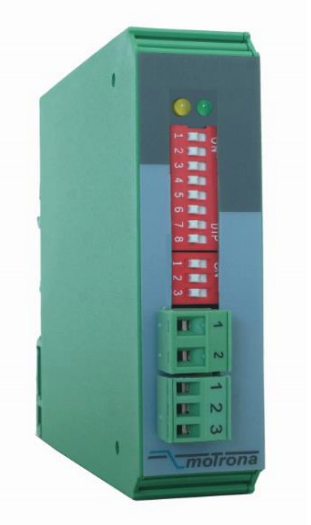 Motrona Signal Converter
SSI >> Analog current/voltage
The IV210 is the functionally compatible and more powerful successor to our proven signal converters IV251/FU252/ZU252.
(With a local firmware upgrade via the RS232/485 port and software OS6.0, this model can become either FU210 or ZU210).
The multifunction unit converts frequencies, counts or SSI signals into an analog, as well as serial format. Unsteady input frequencies can be smoothed by activating a selectable average filter. This signal converter is able to convert linked signals (A, B), such as sum, differences, product or ratio. It is suitable for connecting SSI absolute encoders 6 ... 32 bit, binary or gray format. Optional SSI master or SSI slave operation with various functions, such as concentricity or bit blanking.
- SSI input DATA+, DATA-, CLOCK+, CLOCK- [RS422], 32 Bit
- SSI clock frequency up to 1 MHz
- Analog output ±10 V or 0/4 ... 20 mA, 16 Bit
- Power supply 18 ... 30 VDC
Can't find what you need?
Call ADM on 1300 236 467
A member of our expert team will gladly help you find the right solution for your project or application.