Choose a Low-cost Encoder without Sacrificing Quality
Rotary encoders are complex electro-mechanical devices that have intricate electronics and moving parts. 
To ensure the reliability expected of industrial and manufacturing processes, encoders need to be designed to last and must be built with long-lasting component and materials.  
In industrial applications the cost of a failure is significantly more than the replacement cost of the encoder. However, price is never "no object", and systems integrators and engineers are under constant pressure to complete projects with smaller budgets.  
Cheap hobby encoders are available, but they do not meet the good engineering standards demanded in industrial applications. 
Unique Encoder Factory Design 
PCA Encoders, part of the ADM Systems group of companies, represents POSITAL in Australia. 
The design of POSITAL's encoders has been refined over many years by top German engineers, with a continual focus on quality improvement. 
Due to the almost infinite possible variations of encoders, the small batch manufacturing processes of encoders is inherently expensive. 
Therefore, POSITAL revolutionised their manufacturing process with their purpose-built manufacturing facility in Europe.  
The revolutionary smart circular factory is strategically located in Poland, close to the German border. This enables POSITAL to manufacture high quality encoders at a relatively low cost. The circular factory layout streamlines the assembly process, which helps to keep manufacturing costs to a minimum. 
POSITAL also manufactures encoders for many other well-known European brands. This helps increase factory quantities and thus reduce manufacture costs by improving the economies of scale.   
Buying POSITAL encoders gets you as close to the manufacturing source as possible. 
Other Factors Governing Encoder Prices 
Production Quantities 
Manufacturers like POSITAL offer a significant price advantage at the "factory-gate" should you purchase more than just one encoder.  
There are additional price breaks at 5, 10, and 20 units. The more you order, the lower the cost.  
This is because the assembly and testing of encoders are more cost effective when manufacturing in higher volumes. There is also an advantage with shipping and handling costs.  
To help you take advantage of the lower prices available when ordering larger quantities, PCA Encoders and ADM Instrument Engineering allow you to place scheduled orders.  
If you can forecast a six-month requirement of an encoder, that is not completely unique to your application, PCA/ADM will consider offering you the higher quantity price break and hold the encoders in stock on your behalf until the date that you require them.  
This not only ensures low pricing, but also stock availability for when you need it. 
Cable Connection – Consider a Tangential Cable 
The electrical connection of an encoder is traditionally via an axial (out the back) circular connector, or a radial (out the side) connector. 
The use of a cable length (2m, 5m, or 10m) in place of the connectors help reduce the costs. 
POSITAL's new tangential (angled) cable connection, is both axial & radial. This reduces the number of variations POSITAL has to manufacture, thus improving price. 
One such encoder stocked by PCA Encoders is the: 
POSITAL UCD-IPH00-01024-V6S0-2TW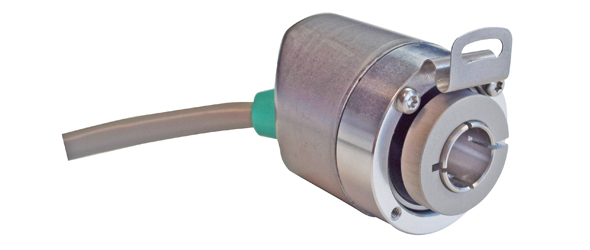 Do You Really Need an Expensive Encoder? 
Physically large encoders are understandably more expensive due the quantity of material required to produce them and the additional cost in shipping the larger, heavier package. 
The functionality and electronics in a compact low-cost encoder are much the same as that of a large encoder. Our large variety of flange adapters and couplings allows a small body encoder to replace a large body flange mounting encoder.  
Of course, this wouldn't apply to a large hollow shaft encoder. 
Consider a Cost-effective Kit Encoder 
For manufacturers needing to mount an encoder directly onto a motor, POSITAL Kit encoders can be extremely cost effective, especially if high volumes of compact multiturn encoders are involved.  
For further information on low-cost industrial encoders please contact PCA Encoders. 
IS THIS INFORMATION USEFUL?
If so, why not share it with your peers and colleagues. Simply click on the blue LinkedIn share icon below.