touchMATRIX® SSI Absolute Encoder Indicator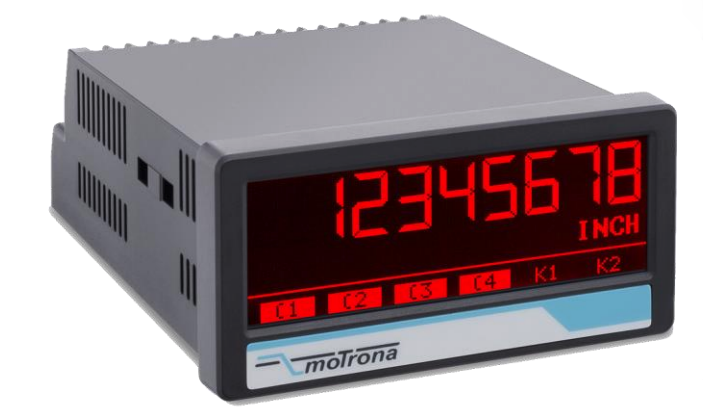 Motrona Digital Indicator
SSI Absolute Encoder Indicator
By default the display devices of the touchMATRIX® series provide a 186 x 64 pixel graphic display. Therefore plaintext, symbols and units can be displayed in a variable way. The LED-backlight display enables the graphic representation in the colors red, green and yellow. Due to the intuitive parameterization these colour variations simply can be used event-dependent (e. g. in case of limit values). Maximum flexibility in connectivity and application is proven by arbitrarily combinable, modular configuration with analog output, switching outputs, relay, serial interface (Modbus) and 115 ... 230 VAC. With the resistive touch panel and IP65 the touchMATRIX displays are ideal for use in the food industry.
- SSI input with format DATA+, DATA-, CLOCK+, CLOCK-
- SSI clock frequencies up to 1 MHz
- Master or Slave operation
- For single turn and multi turn encoders with 10 … 32 Bit
- 3 control inputs for HTL / PNP signals
- Power supply 18 ... 30 VDC
-24 V auxiliary output for encoder supply
Add-on Options: Serial RS485 or RS232 interface
AO: 16 bit analog output, 4 control outputs,
AR: 16 bit analog output, 4 control outputs,
CO: 4 control outputs, serial RS232 interface
CR: 4 control outputs, serial RS485 interface
RL: 2 relay outputs
Can't find what you need?
Call ADM on 1300 236 467
A member of our expert team will gladly help you find the right solution for your project or application.