How to Select Encoder Couplings for Encoder Applications
In this blog post we discuss the factors that you need to take into consideraton when selecting encoder couplings, and the types of couplings available.
ADM recommends using a 4-step approach when deciding what encoder coupling to use in an encoder application. 
Type – the type of coupling should be chosen first.  The physical characteristics particular to the application should be considered when choosing the type of coupling. 
Material – the environment of operation is the main factor in driving this decision 
Size – the dimensions of the two shafts being coupled together, along with the distance between them are some of the points for consideration 
Fastening method – there are 2 main methods: the set screw method and clamping method 
Important Physical Characteristics for Couplings 
Torsional stiffness – in layman's terms torsional stiffness is the ability to resist twisting.  This is important in an encoder application because rotational motion is what encoders measure.  If a coupling device is allowed to "twist", that means that there can be rotational displacement coming from the drive shaft that is not being transmitted to the encoder.  Hence, the measured rotation may not be accurate.  For high accuracy, a coupling with zero backlash (high torsional stiffness) is recommended 
Misalignment – another important characteristic is the ability to take up misalignment(s).  Misalignments can be introduced due to the mounting (static) and during operation (dynamic).  Choosing a coupling that will be able to handle these misalignments is important to avoid premature coupling failure / and or bearing damage to the encoder. 
Different types of encoder coupling misalignments: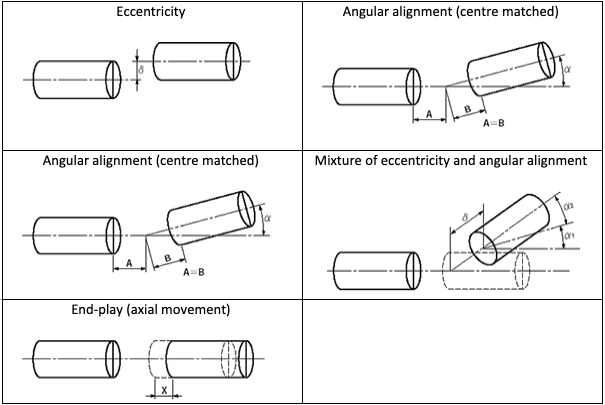 PCA Encoder Standard Coupling Range and Their Characteristics 
CSS / CBR – Bellows Type Coupling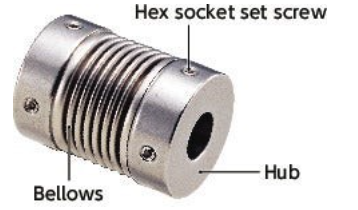 The bellows corrects: eccentricity, angular misalignment, and end-play. 
Even if there is misalignment, the smooth revolution is maintained. 
There are two types of bellows: phosphor bronze type and stainless-steel type. 
Zero backlash (High torsional stiffness) for high accuracy applications 
COL – Oldham Type Coupling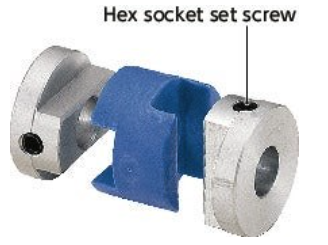 Slippage of hubs and a spacer allows large eccentricity and angular misalignment to be accepted. 
The load on the shaft generated by misalignment is small and the burden on the shaft is reduced. 
It has electrical insulation. 
CST – Serration Type Coupling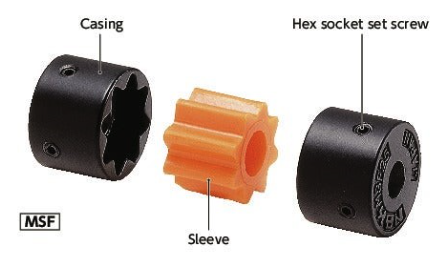 The engagement of serration transmits torque. This is a simple structure flexible coupling. 
Excellent flexibility. Its maximum lateral misalignment and maximum angular misalignment capabilities allow it to absorb torsional vibration. 
CDL – Double-Loop Type Coupling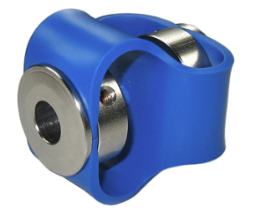 Very high degree of flexibility 
Corrects end-play (axial), radial, and angular misalignments 
High resistance to shock and vibration in applications 
ADM Stocks most of the above couplings as well as others, with all combinations of input and output bore sizes ranging from 3mm to 12mm and above. 
Please do not hesitate to contact ADM, should you need assistance choosing an encoder coupling.