IO-Link Encoder; 36mm body, 6mm Solid Shaft, Synchro Flange, M12Male 5 pin radial plug, Magnetic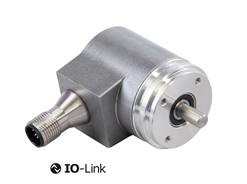 POSITAL's IXARC magnetic absolute encoders with IO-Link offer the following features:
Simplify Your Communications System
Condition Monitoring via Vibration and Temperature Sensor
Hardware I/O-Pin for Preset, Reset or Cam Switch
Simple Wiring Reducing Costs
Automatic Parameterization after Device Replacement
Robust Magnetic Multiturn Sensing without Gear or Battery
IP65
IO-Link is a low-cost, easy-to-implement communications system designed to simplify connections between large-scale fieldbus or industrial Ethernet networks and sensor or actuator devices located on the factory floor. On one side of an IO-Link master gateway device is an interface to the plant-wide network, while the other side has multiple point-to-point connections to individual sensor devices. The IO-Link interface for end devices is relatively simple, eliminating the need to support complex communications protocols at the sensor/actuator level. IO-Link supports a variety of data types, including measurement data, device configuration instructions and information about operating condition parameters such as temperature.
Can't find what you need?
Call ADM on 1300 236 467
A member of our expert team will gladly help you find the right solution for your project or application.