Universal motion controller for applications up to 2 axes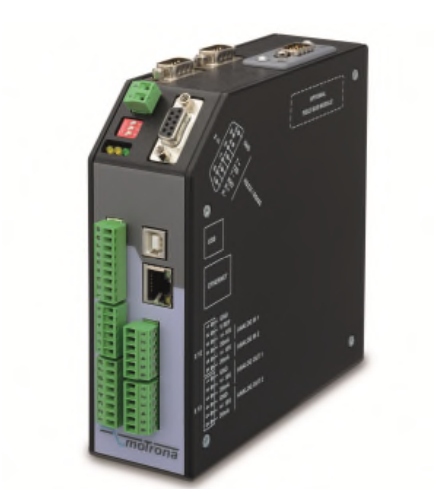 Motrona Motion Controller
Universal Motion-Controller MC800 with an integrated tandem drive-controller, flexible input configuration for sensors and adaptive interface structure. With firmware CT803 suitable for rotating processes.
The Multi-Axes-Motion-Controller MC800, a successor of the proven MC700, is convincing by its higher bandwidth and a more flexible bus architecture. A special feature of the MC800 is the integrated tandem drive-controller. This enables to reach the acceleration requirements of heavy loads by splitting the necessary power to two independent drives.
- Suitable for incremental encoders or sensors with RS422 output or 10 to 30 V HTL output differential signals A, /A, B, /B)
- Freely combined with standard SinCos sensors or SinCos encoders with 1 Vpp (format sin+, sin-, cos+, cos-)
- Four fast interrupt based HTL NPN/PNP inputs for control commands
- Two 14 bit analogue inputs with ±10 V, as well as two similar analogue outputs
- OnBoard interfaces: Ethernet TCP/IP, CANOpen, Modbus RTU, RS232/RS485 interface
- Optional interfaces: e.g. Profinet, EtherCAT, Profibus DP, DeviceNet etc.
- Snap-on module for standard DIN rails (35 mm C-profile)
- Synchronous process during penetration of the tool and length dependent speed outside this phase
- Optimizing polynomial speed profile to ensure extremely smooth motion and gentle tool treatment for best service life
- High cutting precision, even at high line speeds, due to a max. 2 MHz feed-back frequency of the incremental input or 1 MHz of the SinCos input
- High dynamic response by means of short cycle time (300 µse), therefore accurate cutting results also during change of line speed
- Suitable to operation with all 4-quadrant drives providing a standardized drive communication bus (e.g. SerCos II) or a ±10 V speed input
-Easy setup and commissioning by use of the Windows based operating software (freeware), resulting in successful machine operation within shortest time
-The controller can communicate with external operation terminals as well as HMI via standardized factory communication bus (e.g. Profinet)
Can't find what you need?
Call ADM on 1300 236 467
A member of our expert team will gladly help you find the right solution for your project or application.