Programmable Encoders and Programming Tools
PCA Encoder's is proud to be Australia's distributor of POSITAL encoders. 
Advantages of Programmable Encoders
For many years, PCA Encoders had the advantage over most other Australian encoder suppliers, as we would assemble and test encoders in our Sydney facility, and deliver encoders within days of an order being placed. Whereas other encoder suppliers, who could not possibly keep every encoder variation on the shelf, had to import stock from overseas, which usually took weeks.
Local assembly and testing of encoders is still done by PCA in our Sydney workshop, but mainly for specialist types of encoders.
This is because we now carry a range of programmable encoders in stock, which can be quickly configured with a handy programming tool. This means we can despatch encoders in a shorter time frame then before.
The encoder programming tool is also available for you to buy.
POSITAL's handy UBI-FAST programming tool allows one single model of encoder to be used for many different applications, thus reducing inventory holding and the associated costs. 
The UBIFAST programming tool is easy to understand and use, making it perfect for in-field programming tasks. You simply use your Wi-Fi enabled smart phone or tablet as the user interface.
Standard parameters that you can set are:
PPR (pulse per revolution) for incremental encoders
Output type (push-pull HTL or RS422 TTL)
You can also configure SSI encoder values such as resolution, number of turns, direction, and a preset value
The latest version of the UBIFAST programming tool includes some useful new features:
The configuration of analogue (4-20mA) output encoders is now possible. You are able to carry out scale adjustments of the analogue output to suit the actual displacement distance for your application. Also, zero setting and direction setting are possible.
You can copy or clone a previously programmed encoder. This saves time if you have multiple encoders all requiring the same setup, and it minimises the chance of a human error. Your encoder configurations can be stored in the cloud, so if you connect a similar encoder you will be given the option of auto configuration, instead of doing it manually.
Reset of a previously configured encoder to factory default setting. This is useful if you are reselling encoders. It is also helpful when offering telephone support to an installer, as resetting the encoder to the factory default settings  rules out there being any inherited bugs from a previous setup.
The linear to rotational calculation tool eliminates any guess work or mathematics when using a draw wire transducer, an encoder measuring wheel, or if simply connecting to roller with a known diameter.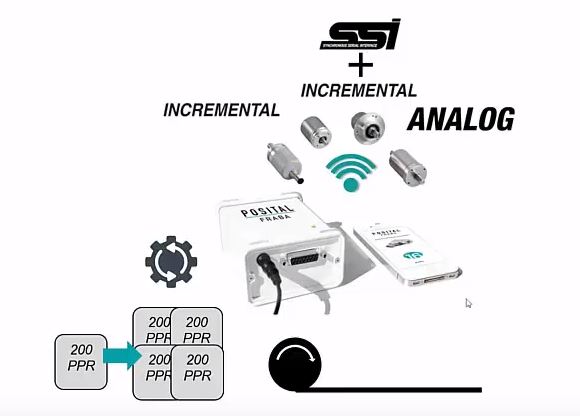 Offsite Backup of Your Programmed Encoder Parameters
Every time you program an encoder, you will be given the option to store a copy of the parameters against that encoder's serial number, in the POSITAL cloud database. Naturally, this requires an internet connection.
This gives PCA the ability to clone or check the programmed settings for you, including any POSITAL encoder that you may come across in the future that is stored in POSITAL's database. You simply need to provide us with the serial number.
The latest version of the programming tool is supplied with a terminal adapter connector block, which makes it easier to connect incremental encoders.  The terminal adapter connector block has stand-off legs to eliminate any strain on the connecter, and the terminals are now a cage clamp push button type, so a screw driver is no longer required.
The new terminal board makes it easy for you to connect the 4-20mA output from an analogue encoder to the programming tool. 
The UBI-FAST encoder programming tool allows PCA to meet the demands of many different applications from one encoder. This is the perfect solution for resellers, OEM's, system integrators and end users. It means that one single model of encoder can be used for many different applications, reducing inventory holding and the associated costs.  
For further information on POSITAL's programmable encoders, please contact PCA Encoders on 1300 362 633, or ADM Instrument Engineering on 1300 236 467. A member of our expert team will gladly answer any questions that you may have.
IS THIS INFORMATION USEFUL?
If so, why not share it with your peers and colleagues. Simply click on the blue LinkedIn share icon below.